Medical Services
Our superb medical team provides patients with the latest treatments available for all conditions affecting the skin, hair, and nails. The following are just a few of the conditions commonly seen and treated at Georgetown Dermatologists:
Acne
Actinic keratoses
Age spots/brown spots
Annual Skin Checks
Cysts
Eczema
Fungal infections (ringworm, athlete's foot)
Keloids & other scars
Melanoma screening
Mole removal
Psoriasis
Rosacea
Skin cancer (Basal Cell Carcinoma, Squamous Cell Carcinoma)
Skin cancer surgery
Skin tag removal
Seborrheic keratoses
Sun spots
Warts and other growths
Cosmetic Procedures
Georgetown Dermatologists is pleased to offer a number of cosmetic procedures to help keep you looking and feeling your best. Schedule a consultation today to see which of the following cosmetic treatments is right for you. We participate in cosmetic rewards programs including Allē and Aspire Rewards to help you earn points and discounts on future treatments.
Allē is an aesthetics reward program that helps you earn rewards for Botox, Latisse, and Allergan brand fillers. Sign up today at alle.com.
Aspire Rewards is the rewards program for Galderma cosmetic products including Dysport and the Restylane family of fillers. Sign up at aspirerewards.com.
BOTOX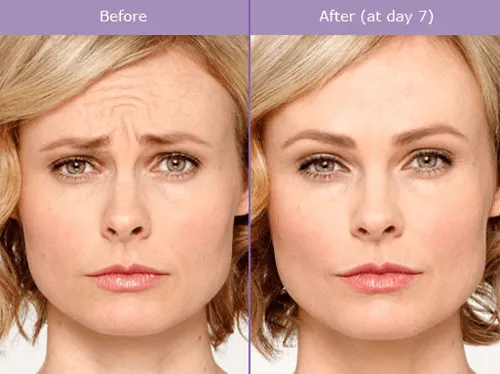 Botox Cosmetic, Dysport, and other FDA-approved neurotoxins are used to safely and effectively improve the appearance of frown lines, forehead creases, and crow's feet by relaxing the underlying muscles. Botox is a remarkable treatment for dynamic wrinkles resulting from repeated use of facial muscles. Botox injections are safe and have been approved by the FDA for use in neurological disorders for over 30 years.
Botox actually prevents wrinkles from appearing by relaxing the underlying muscles so they do not contract. Botox blocks impulses from the nerve to the tiny facial muscles that are related to expression lines. After treatment, the overlying skin remains smooth and unwrinkled while the untreated facial muscles contract in a normal fashion, allowing your normal facial expression to be unaffected. There is zero recovery time and little discomfort. Treatment with Botox typically lasts about 4 to 5 months; repeated treatments can often be spaced farther apart.
For more information, visit:
BOTOX FOR HYPERHIDROSIS
Botox is FDA-approved for excessive underarm sweating that is not adequately managed with topical agents. Botox treatment helps control this condition by temporarily blocking the chemical signals from the nerves that stimulate the sweat glands. When the sweat glands don't receive chemical signals, the excessive sweating stops.
For more information, visit: www.botoxseveresweating.com
DERMAL FILLERS (Restylane, Juvederm)
Dermal fillers are collagen alternatives that have been used for many years to enhance facial aesthetics or improve the appearance of the aging face. Most contain hyaluronic acid in the form of a crystal-clear gel which is injected into the skin to fill wrinkles and folds, plump the lips, and enhance the cheeks. Once injected into the skin, it creates volume, resulting in a healthy and vital appearance. These fillers can also be used to help contour lips, soften pouty downturned corners of the lips, and have up to twice the longevity of standard collagen implant treatments.
Because hyaluronic acid fillers are naturally synthesized products that are part of the normal structure of the deep skin and not extracted from animals, there is no risk of allergic reaction. Following injections, normal activities can be resumed immediately. Treatment typically lasts about 6-12 months.
For more information:
RADIESSE
Radiesse is an FDA-approved, next-generation dermal filler that is setting a new standard for the correction of facial lines and wrinkles such as nasolabial folds. Made of calcium-based microspheres suspended in a water-based gel, Radiesse is injected into the skin through a simple and minimally invasive procedure giving you immediate, visible improvement of folds and wrinkles, and providing long-lasting and beautiful results. In many patients, the effects of Radiesse may last a year or more. Offering clinically proven safety and longevity, Radiesse is a convenient treatment that stimulates the body to produce new collagen — often with just one or two office visits. Get beautiful results and long-lasting wrinkle correction.
For more information: www.radiesse.com
LATISSE
Latisse® solution is a prescription treatment used to grow eyelashes, making them longer, thicker, and darker. Latisse® works gradually and you may start seeing longer lashes after 4 weeks of use. To reach maximum length, fullness, and darkness, it is recommended to use Latisse® every day for 16 weeks.
At week 4: You may start to see longer lashes
At week 8: You may start to see fuller and darker lashes
At week 16: FULL dramatic results
SCLEROTHERAPY FOR SPIDER VEINS
Polidocanol is a prescription medicine that is used in a procedure called sclerotherapy and is administered by a healthcare provider to treat spider veins (very small varicose veins ≤ 1 mm in diameter) and small varicose veins (1 to 3 mm in diameter) known as reticular veins. Polidocanol is a sclerosing agent that is injected into the vein. It works by damaging the endothelium, the cells lining the inside of blood vessels. This causes blood platelets and cellular debris to attach to the lining of the vessels; eventually, cellular debris and platelets cause the blood vessel to clot. Over time, the clotted vein will be replaced with tissue. Multiple treatment sessions are often required to achieve maximum results and are usually scheduled every 4 weeks.
GLYCOLIC ACID PEEL
Application of a glycolic peel stimulates cell turnover and resurfaces skin. This facial treatment promotes underlying collagen production to reduce fine lines and evens out the texture and pigmentation of your skin. This treatment is especially effective for controlling acne, reducing dark spots, and creating a more youthful glow. Usually, 4-6 peels are recommended and are performed in series every 2-4 weeks. Glycolic peels are quick, safe, and effective. The procedure takes no more than 15 minutes and patients can return to work immediately as there is little to no recovery time.
For more information: www.glytone-usa.com/professional-treatments
MEDIUM DEPTH TCA PEELS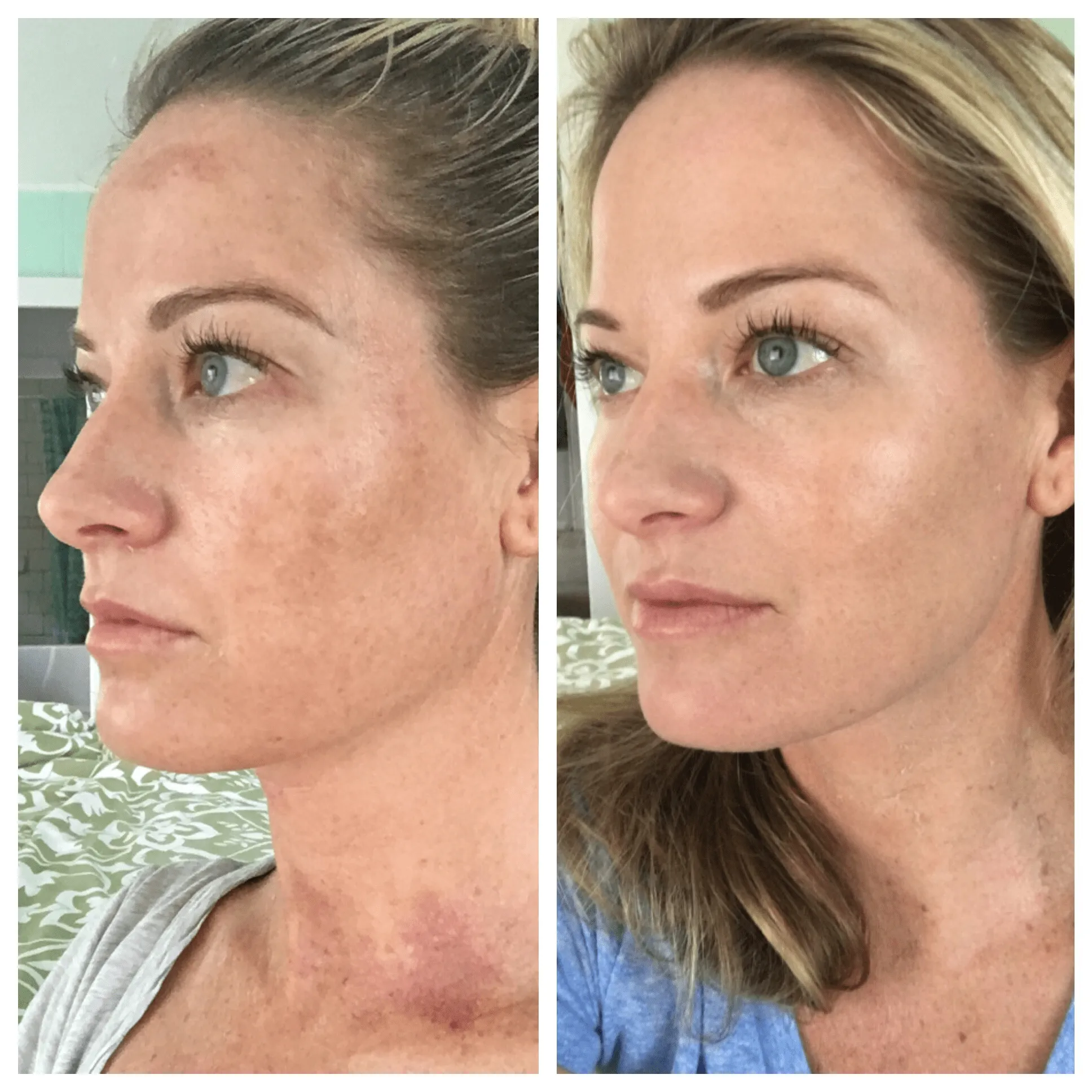 For patients looking to improve their overall skin smoothness and reduce the visibility of fine wrinkles, medium depth TCA (trichloroacetic acid) chemical peels are perfect. TCA peels are highly effective in promoting skin smoothness and vitality. They also improve superficial discoloration and eliminate fine wrinkles.
Medium peels are performed as office procedures and require 15-60 minutes. After the peel, your face will appear red. Within a few days, the superficial layers of skin will turn dark, become stiff, and resemble leather. They will then crack, flake, and peel. Flaking is usually complete in four to seven days. There will be no open wounds and no scabs. Once your old skin has sloughed, your new skin will be fresh, bright, and vibrant. Results last anywhere from six months to two years.
KELOID AND SCAR REVISION
A keloid is a thick scar resulting from an overgrowth of tissue at the site of a healed skin injury. A keloid scar is benign, non-contagious, and usually accompanied by itchiness, pain, and changes in texture. Similarly, hypertrophic scars are raised, thickened scars that do not grow beyond the boundaries of the original wound.
Treatment of keloids and hypertrophic scars may include one or more of the following: injections, compression, surgical excision, cryosurgery, radiation, or topical medication.
EARLOBE REPAIR
Plastic surgery to repair a torn or stretched earlobe is a frequent occurrence. Piercing an earlobe puts it at risk to tear. The size, style, and weight of an earring can contribute to the stretching of the earlobe opening. Large earrings that dangle are caught on clothing or grasped by a child. The result may be a partially or completely torn earlobe. Repair of a torn earlobe occurs in the office setting using a local anesthetic. The procedure consists of "freshening" the edges of the split and placement of sutures to complete the repair of the earlobe. More extensive earlobe reconstruction is also performed in the office setting for patients who have had gauged earlobes.